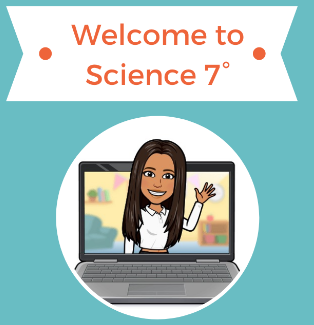 CLASS RECORDINGS: https://drive.google.com/drive/folders/18LJX7Xs_35uBEJhxfTc7_z9avv2W4_Al?usp=sharing
Dear Students!
Let me start by telling you about me. My name is Melissa Suárez Jiménez and I will be your science teacher this year. My Bachelors in Industrial Chemistry is from Universidad Tecnológica de Pereira. I have a Masters in Chemistry from Universidad Tecnológica de Pereira. I´ve been a teacher for three years now.
My hope is that by the end of this year you have a new appreciation for the subject matter and will continue your own inquiries in the subject. I am looking forward to a terrific year with you.
And last, but not least, welcome to this learning experience using ICT (information and communication technology), I hope this online classroom will be very useful for you and together we will achieve the expected learning. Make the most of this new learning experience, browse the classroom, it is yours, it was created for your benefit and for your comfort, since you can use it from your home, a cyber or any place where there is a computer and an internet connection . I encourage and hope for triumphs for you and all the students from LPV.
Science education is one of the most important subjects in school due to its relevance to students' lives and the universally applicable problem-solving and critical thinking skills it uses and develops. These are lifelong skills that allow students to generate ideas, weigh decisions intelligently and even understand the evidence behind public policy-making.
Topics
Unit 1:

Abiotic factors of ecosystems
· Types of ecosystems
· Temperature and solar brightness
· RH (relative humidity)
· Cloudiness and Winds
· Water cycle
· Altitude and latitude
· Biogeochemical cycles: Carbon, Nitrogen and Phosphorus
Unit 2: Classification of organisms
· Climate change
· Levels of organization (food chains)
· Niche and Habitat
· Relationship between organisms.
· Taxonomy: Function and classification of organisms.
Adaptation and Extinction.
Unit 3:

Endocrine and reproductive systems.
Characteristics, specialized cells and diseases.
• Gland system and hormones
• Male and female reproductive system
• Sexuality, menstrual cycle and birth control
Unit 4:

Water chemistry and mixtures
· Water: States, Atoms and Links
Classification of pure substances or mixtures and separation methods

Expectations:
Commitment between students and teacher, in which clear and specific class rules are shown.

Choose a quiet space, free from distractions, to set yourself up for class. Turn off cell phones, TVs, etc. Exit other applications on your computer prior to entering the classroom.

Come to class early.

Be respectful.


Mute your microphone during the lesson to avoid disturbing the class with any background noise.


Use the chat responsibly. It is meant to facilitate conversation around the lesson topic, not for sideline discussions.


Participate. When you have a question or comment, use the "Raise your Hand" button.


Collaborate with discipline and order when the teacher is explaining a topic or an activity is being carried out.

Remember the punctual delivery of works, on the day and time indicated.

Reach out to teacher Melissa, when you need help or can´t do domething.... she will find a way to help.
Regards,
Melissa Suárez